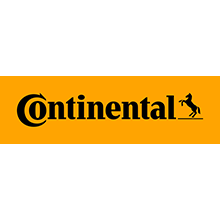 Continental – Germany's largest tyre manufacturer
Regularly tested with high marks in trade journals, Continental is a traditional tyre manufacturers equipped with German technology. Founded in 1871, Continental currently generates worldwide sales of over 20 billion euros per year (status: 2009). As a global company, Continental currently employs about 140,000 people. Listed on the German stock exchange under WKN number 543900, the tyre producer and automobile supplier provides the following items in addition to tyres:
Technical elastomers
Automotive electronics
Brake systems
Chassis components
The Continental AG headquarters are located in Hanover, Germany. With 49.9 per cent, Schaeffler GmbH & Co. KG holds the majority of shares. The individual production locations can be found throughout Germany: in Ludwigsfelde, Aachen, Wietze, Ulm, Korbach and Nuremberg. In addition to Continental tyres, tyre brands such as Uniroyal, Eurotech, Semperit and Viking are produced at these sites.
One in four new vehicles is equipped with Continental tyres
´
As the fourth most successful tyre manufacturer in the world, 25 per cent of new vehicles in Europe are originally equipped with Continental tyre models. Continental currently operates 40 factories on five continents and a host of research centres. Continuous further development of products and strict safety standards are just a few of the fundamental principles of the renowned tyre manufacturer. In close collaboration with Porsche and Daimler, Continental has set high-speed records in many automobile races which are closely linked to a long list of Formula One winners.
We found 193 matching tyres for your vehicle!