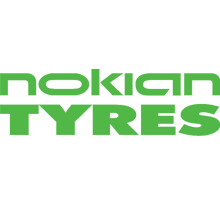 Nokian – high-quality Nordic tyres
From simple passenger vehicles to sophisticated heavy machinery, this successful Scandinavian company equips a wide variety of vehicles with top-quality tyre technology. In addition to the development and production of new tyres, the company is also one of a select number of companies that specialises in the professional retreading of tyres. With the successful distribution chain Vianor and over 200 sales branches, Nokian is one of the most widely represented tyre brands in:
Scandinavia (Sweden, Norway, Finland)
Latvia
Estonia
Russia
The individual sales offices are operated both as franchises and under Nokian ownership.
The Nokian success strategy
Unlike other tyre manufacturers, Nokian is primarily focused on the replacement tyre segment instead of original equipment. This strategy has meant high profitability for the company. With annual sales of over 400 million euros and about 2,500 employees (status: 2001), this joint-stock company belongs to Nokia (19 per cent) and Bridgestone (20 per cent), among other firms. Founded in 1995, sophisticated tyre development and production made the company number 21 among the top 130 tyre producers in 2001.
Company headquarters are located in Nokia, Finland. Additional production sites can be found in Lieksa, Finland and Russia. A Nokian tyre factory was opened near St. Petersburg in 2005. Nokian tyres are not as well-known in Germany but according to extensive testing, these tyres are considered safe, reliable and offer high driving comfort.
We found 18 matching tyres for your vehicle!