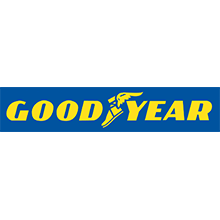 Goodyear – from airplanes to car tyres
As one of the five most successful tyre producers, American Goodyear is now building on 120 years of corporate experience. Founded in 1898, Goodyear not only produced tyres for automobiles. In 1911, the company invented aircraft tyres. This constant quest for innovation in the field of tyre technology led to Goodyear participating in the 1987 moon landing with the highest quality tyres available. For this, the company developed tyre models that could withstand speeds of over 240 km/h. The most popular Goodyear models include:
Goodyear Excellence
Goodyear Eagle
Goodyear RunOnFlat
Goodyear has developed an international distribution network with approx. 70,000 employees at over 60 operating sites throughout the world. The global headquarters of this traditional tyre producer are now located in Ohio in the United States of America.
Goodyear - innovation as philosophy
Continuous further development and research in Goodyear tyre technology has produced numerous innovations for the handling and driving safety of Goodyear tyres. Goodyear has set a completely new standard with its RunOnFlat tyres, which allow you to continue driving even after a puncture or blow-out. Many automobile manufacturers have utilized this technology for the original equipment of high-end models, including:
Goodyear has been a strong presence on the European market since 1912, and now develops tyres for all vehicle types. The tyre manufacturer's European headquarters are located in Brussels, near the Goodyear technology centre in Colmar-Berg, Luxembourg. This location also functions as the development and research centre for the European and Asian markets. An additional technology centre and test site can be found in Mireval in the South of France.
In addition to tyres for everyday driving, Goodyear also offers a comprehensive range of industrial, commercial and agricultural tyres in diagonal and radial designs. These models are used both as original equipment and replacement tyres. When producing tyres for trucks, Goodyear uses a rubber compound with strong rolling resistance, developed in-house, and places an emphasis on highly pronounced tread grooves for improved road grip. Goodyear resistant earthmover tyres (OTR) are frequently used to transport heavy loads.
We found 845 matching tyres for your vehicle!