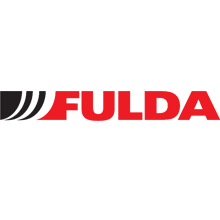 Fulda – the Goodyear quality brand
Fulda was founded as a German tyre producer around 1900. Since 1962, the well-known German tyre manufacturer has belonged to Goodyear, offering high-quality winter and summer tyres at affordable prices for:
Passenger vehicles
Van
Agricultural vehicles
Off-road vehicles and trucks
Over the last several years, Fulda tyre models have consistently received average to good ratings in tyre tests of renowned trade journals. Fulda is currently one of the most frequently driven brands in Germany. As part of the Goodyear company, Fulda stands for high-quality tyres, which are continuously optimized and further developed in an internal research and development department.
Fulda tyres at the height of German technology
Optimal driving safety and driving comfort in a variety of conditions are just a few of Fulda's guiding principles. To develop the corresponding high-quality tyre technologies, the company conducts annual end-user studies throughout Europe. The results of these surveys are fully incorporated into the tyre development programmes. Openness to innovation and constant research into tyre materials and tyre shapes are key elements of the company's success. The company's willingness to operate with a strong focus on environmentally friendly aspects has had a significant influence on the public image of the traditional German company. Fulda currently employs about 1,800 people at 13 European factories, which produce about 10 million tyres per year.
We found 12 matching tyres for your vehicle!