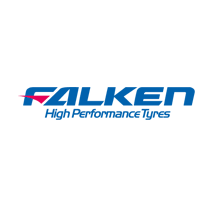 ABOUT FALKEN HIGH PERFORMANCE TYRES

The basis for the technology and development behind Falken High Performance tyres and their exceptional driving properties has for many years been the world of motorsports.

Falken racing tyres demonstrate their quality and performance in the most challenging race series in the world. These include the Japanese Super Taikyu series, for example, the American Le Mans series, the World Rallye Championship and especially the legendary 24-hour race on the Nürburgring. The systematic evaluation of the experiences gained from racing continuously delivers new findings which are then fed in the quickest manner possible into series production. The result is outstanding products that satisfy the highest quality standards and which have proven themselves successfully in the international competition for many years. Falken products meet the strictest quality standards. All production facilities are certified to ISO 9001.
We found 21 matching tyres for your vehicle!