Continental
185/50 R16 81T PremiumContact 2
summer tyres
Online purchase
(Purchase online and have it delivered to desired address)
(Purchase online and have it delivered to desired address)
ContiPremiumContact™ 2 – for mid-sized and luxury vehicles.

- Outstanding braking performance in both wet and dry conditions
- Excellent resistance to aquaplaning
- Precise handling and unbeatable driving stability

Braking:
Thanks to the flat tread wall of the 3D groove, the ContiPremiumContact 2 boasts greater stability, which improves braking in dry conditions. The steep face results in particularly sharp block edges. This means that, like a windscreen wiper, the tyre penetrates the water to ensure direct contact with the road surface.

Aquaplaning:
This direct contact leads to much shorter braking distances, even in wet conditions. The special shape of the grooves (flat and steep walls) generates a swirl effect as water flows through. This leads to the water being dispersed faster and the risk of aquaplaning being reduced. The smooth, round shape of the ground contact area increases resistance to aquaplaning.

Stability:
Thanks to a reduced number of blocks, the compact outer shoulder provides optimal driving comfort and allows excellent cornering stability. The dual block structure of the inner belts ensures the tread's circumferential stiffness.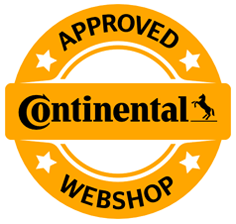 We are certified!

Our product and service offers comply with the defined quality criteria of Continental. Therefore we are allowed to use the "Approved Website" logo by Continental. We are a partner website approved by Continental because our company fulfils Continental's quality requirements completely – convince yourself.


Continental
0350945000
185/50 R16 81 T TL
C1
2020/740
EU tire label datasheet
DatailTyre.EuReifenLabel2020740.Title
The Tyre Labelling Regulation determines the information that must be provided with regard to tyres' fuel efficiency, wet grip and external rolling noise. Information is also provided on the product's performance in wintery driving conditions.

Regulation EU 1222/2009, which has been in force since 01/11/2012, has been revised and will be replaced from 1 May 2021 by Regulation EU 2020/740, from which point new standards will apply. The assessment categories for fuel efficiency, wet grip and external noise have been changed and the layout of the EU label has been changed accordingly. The manufacturers' product data sheets, stored in the EU database, can be downloaded via a QR code integrated into the label. It also includes information on snow grip and ice grip for tyres that meet these criteria.

The following tyres are exempt from the regulation:
- Tyres designed to be fitted only to vehicles registered for the first time before 1 October 1990.
- Remoulded tyres (until Regulation EU 2020/740 has been widened accordingly)
- Professional off-road tyres
- Racing tyres
- Tyres with additional devices to improve traction, e.g. studded tyres
- Temporary-use spare tyres (T-type tyres)
- Tyres with a speed rating below 80 km/h
- Tyres with a nominal rim diameter of 254 mm or less and 635 mm or more

An overview of the criteria and assessment categories



Fuel efficiency
The fuel consumption depends on the rolling resistance of the tyres, the vehicle itself, the driving conditions and the driver's driving style. The measured rolling resistance (rolling resistance coefficient) of the tyre is divided into classes A (highest efficiency) to E (lowest efficiency).

If a vehicle is fully equipped with class A tyres, a reduction in fuel consumption of up to 7.5%* is possible, compared to a vehicle equipped with class E tyres. It can be even higher for commercial vehicles.
(Source: European Commission Impact Assessment
* if measurements were carried out in accordance with the test methods specified in Regulation (EU) 2020/740)

Please note:
Fuel consumption depends to a large extent on the driver's own driving style and can be reduced considerably by driving in an environmentally friendly manner. To improve fuel efficiency, it is important to regularly check the tyre pressure.

Wet grip
Wet grip is divided into classes A (shortest braking distance) to E (longest braking distance).

Braking distance can be reduced by up to 18 m in the case of an emergency stop at 80 km/hr (on a road surface with average grip) when a car is equipped with class A tyres, compared to class E tyres.*
* Source: wdk Trade Association of the German Rubber Industry

Please note:
Road safety depends to a large extent on the driver's own driving style. Stopping distances must always be observed. To improve wet grip, it is important to regularly check the tyre pressure.

External rolling noise
The noise emissions from a tyre affect the overall volume of noise produced by the vehicle and have an impact not only on the driver's comfort but also on environmental noise pollution. On the EU tyre label, the external rolling noise is divided into 3 classes from A (lowest level of rolling noise) to C (highest level of rolling noise), measured in decibels (dB) and compared to the European noise emission limits for tyres' external rolling noise.

A
The pictogram with the classification "A" indicates that the external rolling noise of the tyre is more than 3 dB below the EU limit that applied until 2016.
B
The "B" classification means that the external rolling noise of the tyre is up to 3 dB below or equal to the EU limit that applied until 2016.
C
The "C" classification indicates that the specified limit has been exceeded.