Goodyear
205/55 R16 91H EfficientGrip Renault
summer tyres
Online purchase
(Purchase online and have it delivered to desired address)
(Purchase online and have it delivered to desired address)
The new Goodyear EfficentGrip is a further development of the tried-and-tested Excellence.

The EfficientGrip offers extremely low roll resistance with good wet grip and high mileage. Asymmetric tread with high positive portion (lots of rubber in contact with the road) and continuous tread rib on the outer shoulder, for good stability in corners and low tyre noise. The ideal tyre for drivers wishing to combine comfort and safety.

- Fuel-saving and environmentally friendly
- Long lasting
- Better braking on wet roads
- Quiet, comfortable ride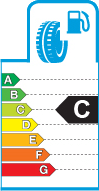 C1
Tyre labelling
Starting on November 1st, 2012 the new European Tyre Labelling Regulation EU/1222/2009, short EU Tyre Label, applies. This regulation applies for all newly produced tyres from CW27/2012. The EU Tyre Label informs about the criteria fuel efficiency, wet grip and external rolling noise, and is binding for all tyres of cars, light trucks, and trucks (C1, C2 and C3) across the EU member states. The aim of the EU Tyre Label is to increase the safety, environmental protection and economic efficiency of road transport by promoting fuel-efficient and safe tyres with low noise levels. Next to the EU Tyre Label you should continue to include relevant tyre tests as an important factor in your buying decision, as the new EU Tyre Label only tests three important criteria. This means that for instance neither the driveability of summer tyres on a dry road nor the grip on snow of winter tyres is tested.
The three criteria and valuation classes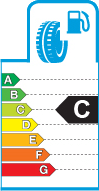 C1
Fuel efficiency
The fuel consumption depends on the rolling resistance of the tyres, the vehicle itself, the driving conditions, and the driver's driving style. The measured rolling resistance (rolling resistance coefficient) of the tyre is divided into classes A to E. (Up to class G in the case of the old label)
Fully equipping a vehicle with class A tyres enables a reduction in fuel consumption of up to 7.5%* when compared to a vehicle equipped with class E tyres. This can be even higher for commercial vehicles.



Wet grip
For wet grip, the so-called wet grip coefficient is calculated from the braking distance or the maximum friction coefficient between tyre and road in comparison with a reference tyre, with this then being divided into classes "A" (shortest braking distance) to "E" (longest braking distance). (Up to class G in the case of the old label)
Please note that road safety depends to a large extent on your own driving style. Stopping distances must always be observed. To improve wet grip, it is important to check tyre pressure regularly.



C1
External rolling noise
The external rolling noise value is given in decibels. There is also a classification into classes A, B and C, with "A" representing the lowest and "C" representing the highest rolling noise. (Classes 1, 2 and 3 in the case of the old label, with "1" the lowest and "3" the highest rolling noise accordingly).
The noise emissions from a tyre affect the overall volume of noise produced by the vehicle and have an impact on not just the driver's comfort, but on environmental noise pollution as well.