Yokohama
185/50 R14 77V A539 RPB
summer tyres
Online purchase
(Purchase online and have it delivered to desired address)
(Purchase online and have it delivered to desired address)
A tyre, with which you can cut a sporty figure in any situation, and which fully lives up to its safety claims. Its unusual thread design magically catches the expert's eye, making it particularly attractive for your car. Guarantees dynamic driving fun and a sporty feeling.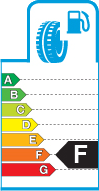 C1
Tyre labelling
Starting on November 1st, 2012 the new European Tyre Labelling Regulation EU/1222/2009, short EU Tyre Label, applies. This regulation applies for all newly produced tyres from CW27/2012. The EU Tyre Label informs about the criteria fuel efficiency, wet grip and external rolling noise, and is binding for all tyres of cars, light trucks, and trucks (C1, C2 and C3) across the EU member states. The aim of the EU Tyre Label is to increase the safety, environmental protection and economic efficiency of road transport by promoting fuel-efficient and safe tyres with low noise levels. Next to the EU Tyre Label you should continue to include relevant tyre tests as an important factor in your buying decision, as the new EU Tyre Label only tests three important criteria. This means that for instance neither the driveability of summer tyres on a dry road nor the grip on snow of winter tyres is tested.
The three criteria and valuation classes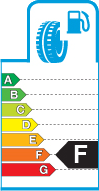 C1
Fuel Efficiency
The categorisation of fuel efficiency is made on a scale of seven classes: from A (greatest efficiency) to G (lowest efficiency), whereby class D is not used. An improvement from one class to the next more efficient class means an approximant saving of 0,1 l fuel per 100 km.


Wet Grip
The wet grip is subdivided into the classes A (shortest breaking distance) to G (longest breaking distance), whereby classes D and G are not used. When going 80km/h on a wet road, the difference in the breaking distance between adjacent categories (from one class to the following better class) is between 1 and 2 car lengths (3-6m).


C1
External Rolling Noise
The noise emission of a tyre has an effect on the total noise level of the vehicle and does not only influence one's own riding comfort, but also the noise pollution of the environment. In the EU Tyre Label the external rolling noise is divided into three categories, measured in decibel (dB) and compared with the European noise emission limits for external rolling noises of tyres. The general rule hereby is: The fewer black lines there are, the lower the external rolling noise as measured according to the EU limit.